Although Katie had never been hill walking before, she decided that setting a challenge to climb 30 of Scotland's tallest hills would be a fitting tribute to nature loving Calum, so set the goal to achieve the ascents in his 30th Birthday year.
Katie and her family wanted to raise money for suicide awareness charities and bereaved family support groups to show their appreciation of the support they received, and to ensure help is available for many others who need this kind of support.
Cruse Scotland is one of the causes Katie has nominated and we're so grateful for the very generous gift of £2,000 that will offer hope to many children, young people and adults in Scotland who are overwhelmed by grief.
Katie, who lives in Conon Bridge, said; "In October 2017, my family and I experienced a life-changing event. We were left with many unanswered questions as my big brother left this world.
"Calum loved the outdoors but had never climbed a Munro. I knew he would really have loved to so I thought what better way to remember him than by throwing a backpack over my shoulders, clipping his red bow tie to my jacket, and beginning the steep ascent to see the top of Scotland's biggest mountains, with our wee dog Kai!
"I found the challenge really tough but overall I enjoyed it. Some days my mood could dip, but then I would get to the peak and be rewarded with the most incredible views and that would make it all worthwhile.
Speaking of why she carried the bright neckwear, Katie continued "Shortly before he died, Calum was so chuffed with his new suit and red bowtie that he got for a family wedding, and it became quite a significant symbol for us afterwards."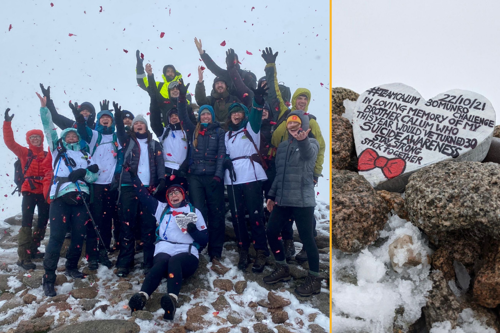 "On my climbs I would leave decorated stones with the image of the red bowtie and the message ''Stay Strong and Stick Together' a message Calum left for us, in the hope it raises awareness and makes others feel less alone."
Katie's original target was £3,000, however due to her hard work and the kindness of family, friends, and even strangers she met en route, £10,500 has been raised in memory of Calum for charities that will offer help and hope to many people at a time they need it most.
If you are struggling today, or any day, with your grief, call our free bereavement helpline: 0808 802 6161 or start a webchat. We are here to help.