When it comes to grief there are dates on the calendar that can feel very difficult to bear – birthdays, anniversaries, Christmas, graduation days, wedding days – dates that are often marked by absence. Sometimes it is not the date itself; sometimes it is the run up to the date that is worse. We may prepare ourselves mentally, physically and emotionally for the known dates, only to find that some unexpected dates catch us completely unawares.
But what about setting a date to intentionally remember?
Not a date marked by absence … but a date that holds the presence, in some way, of the ones that we have loved who are no longer with us. An intentional choice to remember, to celebrate their lives, to mark their death and perhaps to even share some of that with others.
1-11 November, coined "a season of remembering" can hold different opportunities to actively remember our loved ones. Here are some that are nationally, and internationally, celebrated:
To Absent Friends
To Absent Friends is described as "a people's festival of storytelling and remembrance - because dead ordinary people live on in the memories and stories we share". Held across Scotland from 1-7 November each year – take a look at the website and see if there is anything happening near you that attracts your attention. Or do your own thing with family and friends.
All Souls Day / Dia De Los Muertos – 2 November 2021
Some of these celebrations may be rooted in a tradition, or a culture, that is not your own, but that doesn't stop you stealing a little bit from some of the ideas which they hold and adapting it to suit your own culture, thoughts and traditions - or even starting your own tradition!
If your loved one had favourite flowers, or food, or drinks... it can be a chance with friends or family to share those things together. Perhaps taking time to flick through a photo album together, or sharing your favourite photograph, or memory, together. You could even drop a message out in a group text "What's your favourite memory of _____?" and see what comes back.
Remembrance Day / Remembrance Sunday
- 11 / 14 November 2021
We often think of this as a day to remember the service and sacrifice of those in the forces. It can be that … but it can also be wider than that. We can take a moment to mark and remember the service and sacrifice of a family member, friend or colleague in the relationship that you had with them.
Invite a conversation…
Perhaps you have seen someone wearing a lapel badge and asked them about it … it can be a good way to invite a conversation. AtaLoss.org have designed a little lapel badge which might help you do just that …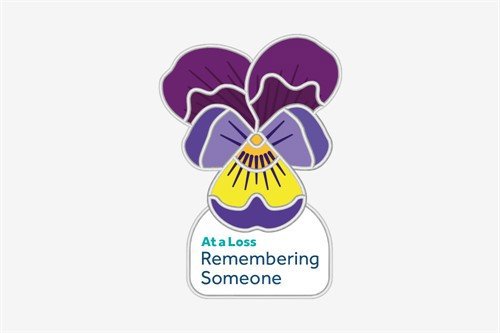 We often enjoy the opportunity to talk about the ones that we love. Why not use this month to create opportunities to do that… intentionally.