Career Ready is a programme that works with schools and employers to empower young people in S5/S6 to kick-start their chosen career through a series of authentic workplace experiences and a network of support.
Cruse Scotland are delighted to have two employees who have each been mentoring a high school pupil, Aimee and Julia.  Aimee and Julia have both recently completed a four week internship, gaining work experience across a variety of roles in our charity. Julia was keen to share her thoughts on her time with Cruse Scotland and how the mentoring has been going through Career Ready, so has written the blog below: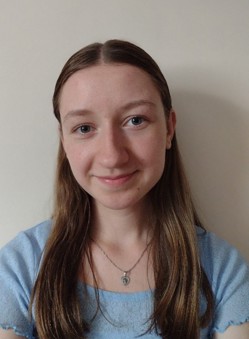 Hello, my name is Julia and I am sixteen years old.  I currently live in Edinburgh and I studied at St. Augustine's High School for five years. I especially enjoyed learning Biology and French at school however, what really intrigues me is how incredibly complicated and unique all living organisms are. At the same time, I want to look after ill people and help them to feel better. That is why I have chosen a career in nursing which will allow me to pursue these interests and passions.  After I have finished school I hope to go onto university to study to become a nurse and then start my career.
I discovered Career Ready during one of my Personal and Social Education lessons where I was interested in hearing inspiring stories of students who shared their experience about taking part in this programme. They said it helped them to build confidence, learn vital skills and equally, gave them the opportunity to do real work experience thanks to a summer internship. As well as this, each student had their own mentor who not only supported them throughout the programme, but also became their lifelong friend.
I decided to get involved and as soon as I got signed up, I was matched with a friendly mentor called Scott who has similar interests to me and who works for a bereavement support charity called Cruse Scotland.  Furthermore, I got to meet him in person during a school event organised by one of our teachers, in which other Career Ready students had the chance to meet their mentors too, and it was great to know each other more and get prepared for an exciting internship that was to come.
For my four week internship, I was given a task to work on a project that would improve bereavement support in schools. The project was to create a toolkit that would offer advice to schools so that they can support their bereaved pupils more effectively. My mentor Scott helped me to note down all the ideas that could be included and I put them to plan on a Power Point slide which I later presented to the Cruse Scotland team. At first, it was difficult to step outside of my comfort zone and talk through my presentation to the team, but they were enormously kind and I've received plenty of heartening feedback from them afterwards which was hugely rewarding. In short, it has been a lot of work, but I knew I could always message Scott if I needed anything and he always supported me.
Throughout my internship, I also had the occasion to speak to many wonderful people. One of them was Audrey Holligan who is a specialist in children and young people support and who I could speak to about the project and ask any questions I had. It was lovely to speak to her and apart from helping me with the project, Audrey also gave me brilliant advice in terms of my university course which I am very grateful for.
As well as meeting Audrey, I also had the chance to speak to Jenifer on Zoom who is the coordinator of a group called Step by Step which helps bereaved adults by meeting up with them and going on long walks together in which they can talk and support each other. Once I finished asking Jenifer my questions about the project, Jenifer mentioned her group walk event that was planned for the following week and I immediately asked if I could come, and I could!
I was greatly excited as I could take a small break from work and go to Glenrothes. Although the bus journey got a bit complicated, with Jenifer's help I managed to get there, and it was so lovely to meet her in person. Everybody in the group was extremely kind and friendly. We talked about various things and each person had such a great sense of humour! I really enjoyed this walk and even though I have never met the group before, they already felt like family to me.
Finally, I am very grateful to have received the chance to take part in this amazing internship. Despite the difficulty of waking up early during summer and needing to prioritise my tasks and complete them on time, now as I'm looking back on it, I am highly delighted that I could get involved in this unforgettable and enriching experience and get a real insight into the world of work. I have improved my communication skills, computer skills, time management and my mentor became my lifelong friend. Additionally, I have understood the importance and real meaning of work and if I could repeat all of it next summer, I would.
We would like to say a big thank you to Aimee and Julia for all the work they have completed over their internship as well as a big congratulations on their achievements with their personal development. We wish them good luck for the future and we're sending lots of positive vibes as the exam result delivery day draws closer!